Following some recent happenings. From Fashion Police!
1. Worst and Best Dressed of the Royal Wedding.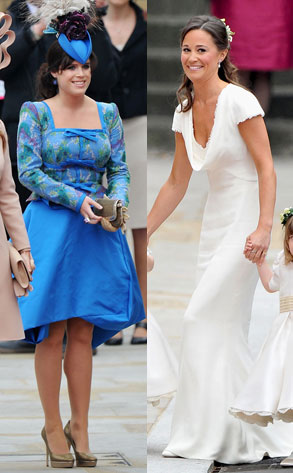 Left: Worst dressed lady was Prince William's cousin, Princess Eugenie "
Princess Eugenie, in a bright blue Vivienne Westwood dress with Philip Treacy hat that just barely edged out Prince Harry's GF, Chelsy Davy, for the win."
Right: Pippa Middleton in an Alexander McQueen. Stunning!
2. Osama
Okay, so we've heard that Osama's dead. He was reportedly being shot to death and buried in the sea. Well, when i discovered the news, i wondered to myself.
Did he even existed?
If so he did, will his death make the world a safer place as what has been claimed? Was HE even really the mastermind of the attacks? Were there anyone else? or... all these while, was his disappearance was only used as a diversion from the REAL person behind the attacks?
His corpse being left buried into the sea.. Just because some do not want a shrine to be built on his grave. Ridiculous! He's dead, so why is his burial also a fuss?
I know many innocent lives were taken following the attacks and I am clearly against that.
One question which makes me wonder, who are the real terrorist?
There are also millions of innocent lives currently being killed in other parts of the world. Why isn't there any stop to that? Why isn't it a big deal? Could they just hunt down the specific person without sacrificing and taking risks that may involve women and children especially.
As these questions runs thru my head, i better head off as there are some errands to be done.
Till then.